Grab these free website guides, templates & resources!
Overwhelmed with everything you have to do to get your website done?
Are you feeling overwhelmed with all the tasks that come with creating a website? Take control of your to-do list with this free Website Planner. This guide will break down the website-building process into manageable steps and provide you with a clear roadmap to follow. Say goodbye to the stress and confusion of website building, and hello to a streamlined, organized process.
Find out 24 mistakes therapists and coaches make on their website.
Discover 24 mistakes therapists and coaches make on their websites and learn how to fix them. From design and layout to content and messaging, these common errors can be the difference between a successful online presence and a missed opportunity for clients. Don't let your website hold you back from reaching your full potential. Get the expert insights you need to take your therapy or coaching practice to the next level.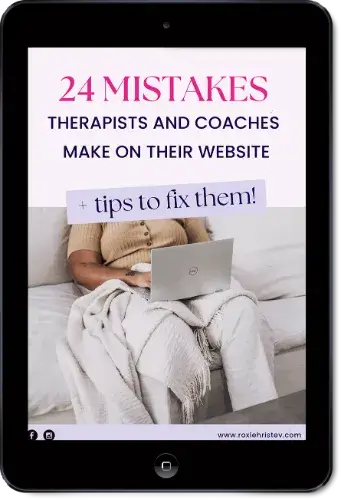 40+ feminine color palette guide to inspire your website design
Unleash the power of color on your website with this comprehensive guide featuring 40+ feminine color palettes. This guide will provide you with the inspiration you need to create a website that stands out and resonates with your target audience. From soft pastels to bold jewel tones, these color combinations will help you communicate your brand's message and evoke the emotions you desire. Get your hands on this guide today and elevate your website design to the next level.