Have you ever thought about how a bad web design affects your business?
A visitor only needs 50 milliseconds to form an opinion about your site. In a fraction of a second, they will decide if your site looks professional if they want to stay or leave. And 94% of those first impressions are closely related to design, how the site looks, and the user experience.
Because I'm in the business of building websites, I inevitably visit a lot of sites every day. Some are very well done (I don't mean they're pretty, it's not enough to have a pretty site to sell) and others…not so much.
I know there are many of you who choose to create your website yourself for various reasons (financially, you think someone else wouldn't understand how to make it look, etc.). And it's perfectly normal to want to do that, to experiment and to want to save money.
As a small business owner you may already realize the importance of good website design, but still, fail to set aside the time and budget to redo it. Why does this happen? Here are a few reasons I've come across in discussions with my clients:
Low budget – when you have attractive offers like a friend willing to do it for free, a theme installed in WordPress, tutorials on Youtube, it's hard to say no and save a few extra bucks for your business.
Entrepreneurial spirit– for small businesses, especially those that have been built from scratch, there is a strong sense of ownership. Entrepreneurs see their business as their own child. They have invested a huge amount of time in growing it and making it profitable, constantly getting involved in every aspect of it: from choosing collaborators to the production side. They are their business. Which means they believe they can run their business themselves.
Lack of information – many people in business don't fully understand the implied value brought by a quality website. A professionally done website is critical when you want to maintain your position in your niche market.
But it's not enough just to get the site built, it has to be done right, to give the user a good experience, to make them stay on your site for as long as possible, and that doesn't happen through a bad web design. That way the chances of them buying from you will increase. If you don't consider the customer experience on your site and hinder them with a bad web design, not only do you annoy them and they will leave your site, but they will recommend others to avoid it too. I've had this happen to me recently, from a customer perspective.
So, what does bad web design mean?
A bad web design is not subject to a specific formula. I've come across sites that had both good and bad web design elements, sites where the direction was clear but the design execution was pretty unfortunate. But there are a few points you can see quite often in a bad web design execution:
A bad web design it's too cluttered.
What does your homepage look like? The homepage of your website should be designed to show visitors the most important information about your business in the most visually appealing way possible. Websites with too much, cluttered information are not only not pleasing to the eye but also appear less credible.
To keep a visitor's attention, a website needs to take into account the space around elements (white space). Our brains crave order and simplicity, and too much content on a single page can greatly increase the chances of a visitor leaving your site.
Proper spacing within the site created improves readability, can highlight products or services, gives the feeling of sophistication and elegance, is critical to a well-balanced website design leaving the elements and the visitor to breathe between information.
A bad web design it's not mobile-friendly.
Another common problem with bad web design is that it is not responsive to mobile devices. Most people go online using their phones. If your website doesn't have a mobile-friendly design, it won't display well and visitors who land on it will instantly leave and never return.
Over 50% of a website's traffic comes from mobile phone usage so a mobile-friendly design should be a priority when building or redesigning your site.
Mobile e-commerce is also expected to reach 75% of all online sales by 2023.
A bad web design navigation on the website is difficult.
Each visitor will only stay on your site for a few seconds before deciding whether they want to browse through or leave. That's why a website menu should be simple and easy to understand, intuitive.
Avoid using complex structures, lots of subcategories, creative names for the main pages. It's better to use a horizontal menu with a single dropdown level.
A bad web design is inconsistent.
A website will never be of interest to visitors if it doesn't have its own unique and beautiful design. If you use weird color palettes with different shades on each page, ignore typographical rules, use lots of mismatched fonts, chances are your website will not be attractive. To avoid this, before you start building your website, make sure you have created a brand manual and keep it in mind when building or redesigning your site.
Colors are among the first things a visitor notices about your website design. If you use a lot of colors, visitors will be confused, overwhelmed, and don't know what things to pay attention to. And since colors have a big influence on your brand identity, you want to make sure you choose the right colors for your website, because visitors will associate those colors with your brand.
How does a bad web design affects your business?
I've mentioned above a few things that can affect your website but what is the real impact of a bad web design on your business? It can be hard to say how much money you lose from unhappy visitors, but in general with a bad web design:
You're not achieving the goals for which it was created.
When you have a bad web design, you can expect your clients to feel confused or uninterested, which will cause them to leave your site. This defeats the whole purpose of your website, which is to encourage visitors to buy from you.
It's making you lose money.
Imagine a website that doesn't achieve the purpose for which it was created, isn't that a complete waste of money? As long as your site is live, you're paying for the domain and hosting without any return on your investment. The same goes for money invested in marketing.
It makes you lose clients.
With all the effort you put into social media posts, advertising, client relations, and perfecting your services and products, you don't want your website to be the one that puts clients off. A site that is difficult to navigate will frustrate visitors and they will most likely leave the site and look elsewhere for the solution.
It affects your credibility.
A bad web design, that's cluttered, has too many colors, fonts, elements, too little content, vague and low-quality images will look unprofessional. With a website that doesn't inspire confidence, your clients won't take you seriously as a business.
Web design trends are constantly changing, so web design principles are hard to define, but there are still a few golden rules that have stood the test of time. These include:
Easy to understand and intuitive navigation;
Good color palette;
Clean, minimalist site design;
An engaging user interface;
A custom design appropriate to the business audience;
Organized design elements and content;
Find out 24 mistakes therapists and coaches make on their DIY website!
This guide is all about the mistakes you can avoid doing on your website and offers you tips on how to fix them too, so you can grow your practice and connect more easily with your clients.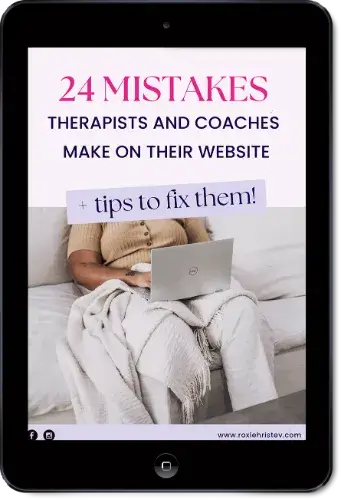 These principles are just a few rules of web design, but they all show that good website design should be aesthetically pleasing, easy to understand, and easy to use. A website should provide a great user experience and always put the user first.
Your website is at the heart of your online presence so you'll want its design to be one that proudly represents your business.
If you need an audit for your website, message me and I'll help you for free to identify 3 major things that can improve your website design and visitor retention.